Shelly's Voice Advocacy, Indiana Youth Group announce second annual Rally for Equality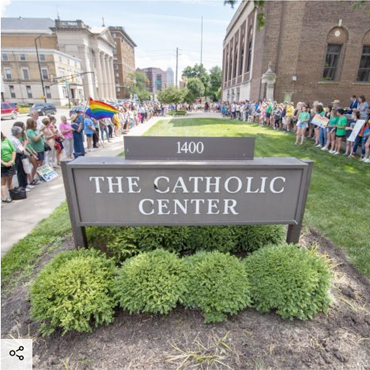 Advocacy groups across the nation will hold a caravan around the Indianapolis Catholic Center to protest the ban on trans students in Catholic schools.
INDIANAPOLIS – LGBTQ+ advocacy groups across the state and nation are uniting to host a car caravan around the Indianapolis Archdiocese Catholic Center on Saturday, July 11 at 1:30 p.m. The protest is being held to speak out against the Indianapolis Archdiocese's recently announced policy to exclude and expel trans students from 60+ Catholic schools in Indiana. 
"The Indianapolis Archdiocese's policy is reprehensible, and our trans youth deserve choice in the school they go to without fear of being denied entry based on who they are," said Shelly Fitzgerald, a former Roncalli Catholic High School Guidance Director who was fired for being in a same-sex marriage. "I invite community members across the state to join us in protest and display the strength of the LGBTQ community and its allies."
Shelly's Voice has partnered with about a dozen organizations including Indiana Youth Group, The Ariadne Getty Foundation, GLAAD, Dignity USA, and PFLAG Indianapolis to bring a wide coalition of LGBTQ and interfaith support to this protest. Attendees will hear directly from trans youth affected by the archdiocese's exclusionary policy, as well as elected officials, national and local LGBTQ activists, and interfaith leaders. 
"I am thankful for the advocacy groups across Indiana and the nation who are joining forces to protest the Indianapolis Archdiocese's discriminatory policy," said Chris Paulsen, CEO of Indiana Youth Group. "IYG is committed to fighting for our LGBTQ youth, and we need our community to unite to show the Catholic Church we will not stand for this."
Participants should meet in the parking lot across from the Catholic Center at 1401 N. Meridian Street (the parking lot between Big Brothers and Big Sister and VirtUSA). The program will begin at 1:30 p.m., and the caravan will launch at 2 p.m. around the 14th and 15th block of Meridian Street (map and logistics below). For those who cannot join by car, we encourage you to tune into Shelly's Voice Advocacy's Facebook page where the program and caravan will be live streamed.
Media Contact:
Sam Varie, samvarie@gmail.com