Shelly's Voice, Fitzgerald Invited onto The Ellen Show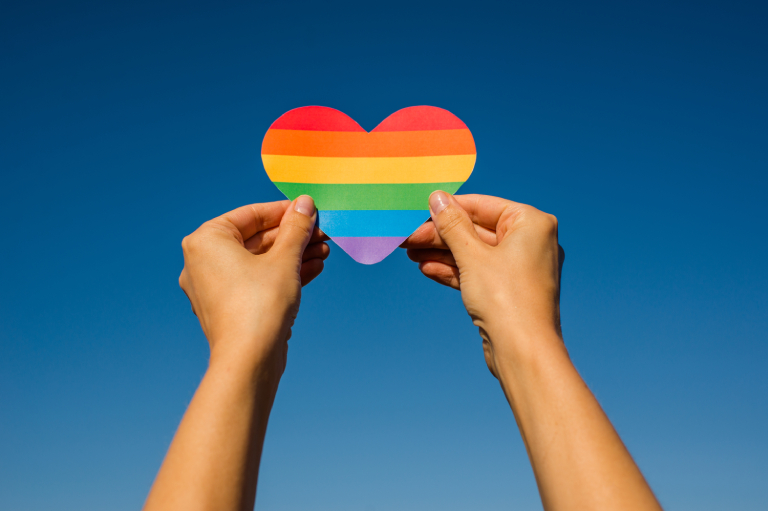 The bid to save Shelly Fitzgerald's job got a boost Monday when The Ellen Show helped arrange a $25,000 donation to [Shelly's Voice].
The Roncalli High School guidance counselor, put on leave because of her same-sex marriage, appeared on the popular daytime talk show Monday with a group of students leading the effort to keep her at the Indianapolis Catholic school.
The donation came after she shared her story with host and LGBT activist Ellen Degeneres.
Fitzgerald told Degeneres that her job is still in limbo weeks after being placed on administrative leave. Roncalli, where Fitzgerald is alumnus and has worked for 15 years, placed Fitzgerald on leave last month after they were made aware that she was married to a woman.Ellen DeGeneres said on her show Monday that everyone needs to hear about Shelly Fitzgerald's experience.
Fitzgerald's interview had been scheduled to air on Sept. 7, but she was bumped after a segment with pop superstar Cher went longer than expected. During the nearly seven-minute long segment, posted online ahead of the show's airing, Fitzgerald told Degeneres that she's been married to her wife, Victoria, for four years but that they've been together for 22 years and have a 12-year-old daughter.
Fitzgerald said students and parents did not know she was gay but that many other people working at Roncalli were aware.
"You let people know who you love, who you trust," she said. "So yeah, the majority of the people there knew."
It wasn't a problem, she said, until someone pulled a copy of her marriage license and presented it to Chuck Weisenbach, Roncalli's principal. He turned it into the Indianapolis Archbishop, Charles C. Thompson, Fitzgerald said on the show.
Fitzgerald told Ellen that administrators told her she could resign or dissolve her marriage. In the days after that meeting, Fitzgerald said the school effectively "outed" her as gay when they made a public statement that she'd been placed on administrative leave due to her marriage to a woman.
"They put it on all their social media and sent out a press release," Fitzgerald said.
Degeneres asked, "So, they outed you?"
"To the world," Fitzgerald said.
Roncalli officials released a statement Monday night refuting that claim, saying Fitzgerald shared details of her meeting with school officials first and that created "widespread social media attention," to which the school then had to respond.
"The assertion that Roncalli High School administrators "outed" Ms. Fitzgerald is inaccurate," said the statement from Joe Hollowell, president of the school, and Gina Fleming, superintendent of the Archdiocese of Indianapolis.
Ellen called Fitzgerald's story "crazy" and said everyone needs to hear it.
After telling that story, Fitzgerald was joined on stage by five Roncalli students who have been among those pushing for her return to the school.
"I had quite a few issues last year and she was always there for me," Reagan O'Gara, a Roncalli senior, said. "Her door was always open. Her room kind of became my safe spot."
The students have started a nonprofit called Shelly's Voice to push for change at schools governed by the Indianapolis Archdiocese and are raising money through a GoFundMe website.
"Good," Degeneres said, "because it sounds like that school needs it."
While the students were on stage, Degeneres announced that one of her show's partners, Shutterfly, was donating $25,000 to their cause and presented the visibly surprised students with a giant check.
Fitzgerald said she said doesn't want to leave a job she loves but has no intentions to dissolve her marriage. She has met several times with school and church officials but have not come to a resolution yet.
In a letter to the editor published by IndyStar on Monday, Fleming said the church continues to embrace everyone but that school employees must adhere to their contracts and agree to fulfill a "ministerial role."
"If a person violates that contract, leadership must look into the matter and work toward the ideal as identified in the Catechism of the Catholic Church," Fleming said. "The employee then chooses whether he or she wishes to walk that path of accompaniment."
Degeneres ended the segment by encouraging other schools in the area to hire Fitzgerald.
"If there's another school out there that would like to hire Shelly, I urge you to do so," she said. "This is an amazing woman."
Original Post by Arika Herron on Indy Star